Updates Below…
The Iran presidential elections were held Friday, June 12th. This is how Wikipedia summarized the election events…
With two-thirds of the votes counted, the Islamic Republic News Agency, Iran's official news agency, announced that incumbent Mahmoud Ahmadinejad had won the election with 66% of the votes cast, and that Mir-Hossein Mousavi had received 33% of the votes cast.  The European Union and several western countries expressed concern over alleged irregularities during the vote, and some analysts and journalists from United States and United Kingdom based media voiced doubts about the authenticity of the results.

Mousavi issued a statement saying, "I'm warning that I won't surrender to this charade," and he urged his backers to fight the decision as well as to avoid committing acts of violence. Protests, in favour of Mousavi and against the alleged fraud, broke out in Tehran. Supreme Leader Ayatollah Ali Khamenei urged the nation to unite behind Ahmadinejad, labeling his victory as a "divine assessment". Mousavi lodged an official appeal against the result to the Guardian Council on 14 June. On 15 June, Khamenei announced there would be an investigation into vote-rigging claims, which would take seven to ten days.
Some of the reasons for questioning the veracity of the election results were, victory was declared very quickly making people wonder how the paper ballots could have been counted so rapidly. Polls prior to the election had shown the race as close, yet the 'results' indicated a landslide. Mousavi's own home town even reported an overwhelmingly victory for Ahmadinejad. Clearly there was distrust amongst many of the Iranian people of the government as massive protests erupted and continue even now.
So what does Twitter have to do with this? Once protests started the Iranian government shut down public communications leaving citizens little means to communicate. Twitter, obviously not under the control of the Iranian government, is one of the few remaining tools for communication amongst the citizens of Iran. And it isn't just that Twitter is helping citizens communicate, it is a major player in getting the word out about what it is actually happening in Iran.
Network and cable news dropped the ball in their coverage of the elections, and over the weekend one of the hottest topics on Twitter was #cnnfail. However, the hottest topic was #IranElections. The Twitter feed was the first source for much of the news coming out of Iran. Here are examples of recent #IranElection tweets…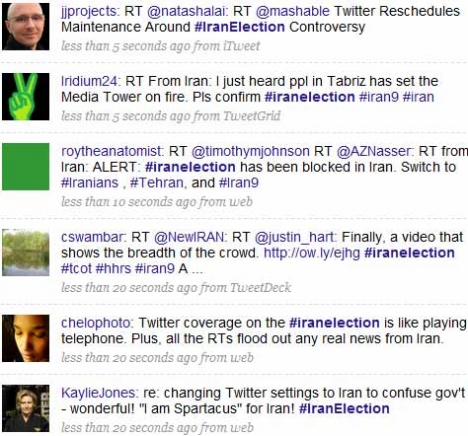 The images being posted via Twitter have been remarkable, and the Flicker account of mousavi1388 is definitely worth looking at.
A "mousavi1388″ image of the protests via Twitter.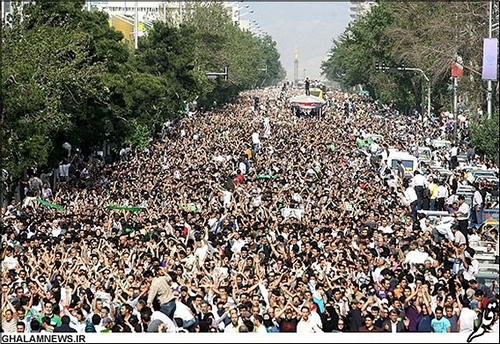 This has taken on a life of its own on Twitter. Users have set up proxy servers for Iranians to use as the government shut down internet access within the country. People are turning their Twitter avatars green in a show of support. Twitter itself has rescheduled maintenance downtime at the urging of users so that it will be available to Iranians during their peak hours. People are also changing their time and location settings on their accounts to Tehran time and locale in order to confuse Iranian officials who are trying to find out who is tweeting inside Iran. Even at this moment the hashtag (or keywords) #IranElection is being changed as it appears the Iranian government may be blocking it in Iran.
The Iranian government post election has done everything possible to show itself as a totalitarian regime by cutting off communication and violently suppressing protests.  They are taking actions that those in the U.S. whether conservative or liberal can clearly see as wrong.  It makes this a fascinating moment in history where technology and communications may actually be aiding freedom and democracy, while providing a first person account of events that the media has yet to fully come up to speed on.
Hash Tag Update: The hashtag #IranElection is remaining the standard tag as it keeps the discussion targetted and the reports that the tag was blocked in Iran appear to be false.
State Department Update: CNN is reporting that…
Senior officials say the State Department is working with Twitter and other social networking sites to ensure Iranians are able to continue to communicate to each other and the outside world.
Update User's Guide: A guide (Cyberwar Guide for Beginners) for appropriate #IranElection tweeting is dispersed for more effective techniques. The most basic rule, verify facts before re-tweeting.
CNN Update: After receiving numerous complaints from Tweeters CNN finally stop using the screen names of Iranian Tweeters due to the potential safety risk of these individuals becoming known. (Again #cnnfail becomes heavily used.)
Re-tweets from Iranians are using 'RT from Iran' instead of broadcasting user names as is normal procedure for re-tweeting. (A re-tweet is a duplicate posting that helps spread the word about items deemed important by the 're-tweeter.'
Update TedBlog Article: Q&A with Clay Shirky on Twitter and Iran…
Which services have caused the greatest impact? Blogs? Facebook? Twitter?

It's Twitter. One thing that Evan (Williams) and Biz (Stone) did absolutely right is that they made Twitter so simple and so open that it's easier to integrate and harder to control than any other tool. At the time, I'm sure it wasn't conceived as anything other than a smart engineering choice. But it's had global consequences. Twitter is shareable and open and participatory in a way that Facebook's model prevents. So far, despite a massive effort, the authorities have found no way to shut it down, and now there are literally thousands of people aorund the world who've made it their business to help keep it open.
Iran accuses US of interference in election feud - From AP…
Iran has accused the United States of "intolerable" meddling in its internal affairs, alleging for the first time that Washington has fueled a bitter post-election dispute.
Update Protests Continue: Tracking today's protests, pictures and updates still streaming through Twitter's #IranElection tag. Simply sign up at Twitter and click the link on the right-hand side menu "#IranElection" and follow the current tweets.
Farsi - English Traslator: launches Farsi - English translator Thursday night/Friday morning. A hugely helpful tool that aids communication, and understanding of news directly from Iran.
Cable and Network News relying on Twitter: Saturday the 20th, with a government imposed blackout of foreign media CNN and others have to rely on citizen journalists along with Twitter and other social media sites to gather news. Protests are scheduled even though Ayatola Khamenei has made statements that suggest a possibly violent crackdown on protesters. Reports of tear gas used and armed police barricades used to disperse crowds.
Students Shot on Camera: A tweet linked to this video of Iranian students being shot
A graphic YouTube video of a woman's death (Neda) becomes a symbol of the movement. Trending topic on Twitter is #Neda as references to the video, and her life show how moved people were by her tragic death.

Mousavi Facebook post: Through a post on Facebook it has been reported that Mir-Hossein Mousavi has stated that he is "ready for martyrdom."
Embassies Take Wounded Iranians: Word spreads quickly on June 20th that many European embassies are taking care of wounded Iranians.  These embassies along with their address/directions were also diseminated through Twitter.  The safety of the hospitals is in question, and the Canadian embassy is pressured (via use of Twitter) to open its embassy too, yet embassy remained closed on Saturday.
Filed under: Foreign Policy, Independent, Politics, media | Tagged: cnnfail, iran twitter, iran9, mousavi1388, tehran twitter